Organic Google Marketing (SEO)
Organic SEO (SEO) is the most important and rewarding advertising investment for any business that sees itself in the long term
Businesses that have not lived under rock for the past few years must have noticed the term organic promotion that ran strong on the net.
However, there was a sense that it was all about magic and that no one really wanted to reveal his secrets.
Look, in Thessalonians? The results of organic promotion are effective at a level of no less than magic.
But we at ArtWayz believe in complete transparency.
Therefore, it is important for us that you also understand what the service includes and how SEO SEO is no less than the best investment for your business.
What Is Organic SEO Promotion?
Organic SEO, also known as Search Engine Optimization (SEO), is the promotion of a website and aims to bring the same site to the first page and, if possible, to the first result under an important search term for the business.
In the following image, you can see Google's search results as they appear today.
The chart above shows that Google first presents us with about 4 initial results.
These first results will be a Google Adsense promotion which works on PPC basis.
PPC is a pay-per-click abbreviation, which means a pay-per-click.
This kind of promotion depends on paying Google for every click. That is, as soon as the same business stops promoting its ad, it will drop from the immediate search results.
Below the PPC results we will see the organic promotion results.
This promotion takes months, usually at least six months.
However, organic type promotion will put your site on the first page for the search term you have chosen and leave it there for a long period of time without paying anything to Google.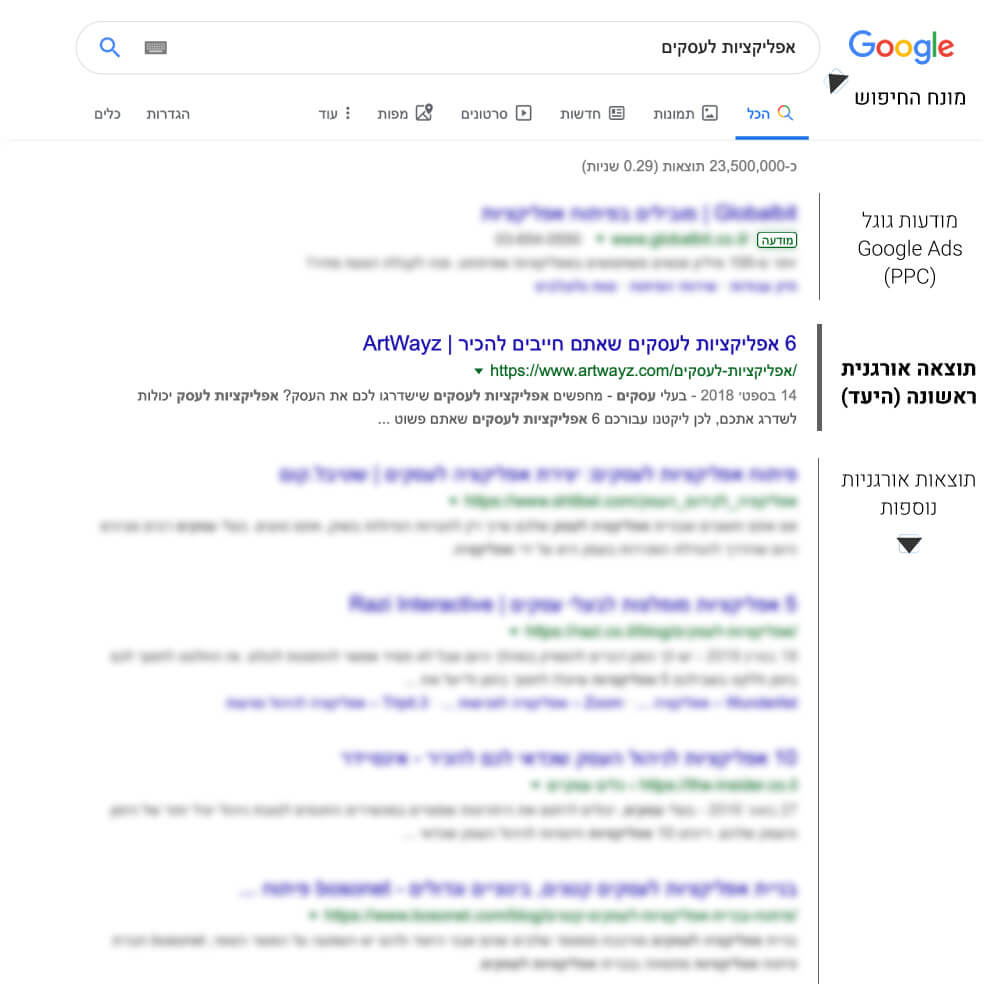 SEO (organic) promotion is built on a number of promotional actions to promote specific keywords relevant to the same business and/or website
Uploading articles and rich content
Increasing Domain Authority for Google (Domain Authority) – Higher authority means greater "paragon" in promoting content and articles.
Building Backlinks (inbound links from sites to the site we are promoting) – this also increases the Domain Authority of the site.
Close monitoring of the site while maintaining a healthy and proper structure for maximum results.
Smart choice of keywords
We will identify the most relevant search terms for your business.
We will then explore the difficulty of competing for those terms and align lines with respect to primary, secondary and expectations when it comes to advancing towards the main Google page.
Proper structure check for site
One of the most basic things in organic promotion is site structure.
From the link structure to the alternate names for images on the site – everything must be perfectly constructed.
So, as we begin our collaborative work – we make sure that the site is built in a way that the search engines understand well what the site is about. By doing so – the site will be promoted better.
Uploading articles / quality content
Google SEO and in fact – specifically Google organic SEO – is based on content, ie informative articles.
When you upload an informative article focusing on keywords that are important to our business – in the future, when the article is well promoted, we will (hopefully) appear on the front page and receive entries / inquiries thanks to that article.
The amount of articles uploaded for you varies depending on the niche of your business as well as your desire.
Close monitoring and regular updates
We understand that as business owners it is important for you to stay up to date.
How much of your site or landing page has advanced in a particular search term?
How many hits did this promotion bring? How many visits did we have to specific pages or articles?
All this and more are just some of the information we see.
This means that you too will always be in the loop and you will always know where things stand and how close we are to Google's main and desirable page for a specific term (s).
We are always up to date
An organic promotion company must always stay up to date with Google.
Always know – what's the newest Google-level algorithm update?
Are there any important innovations or highlights from Google?
We are always in the loop and always updated. Therefore, you too can be assured that when you talk to us about SEO SEO – your website or landing page will receive the fastest boost and in the most effective and up-to-date manner.